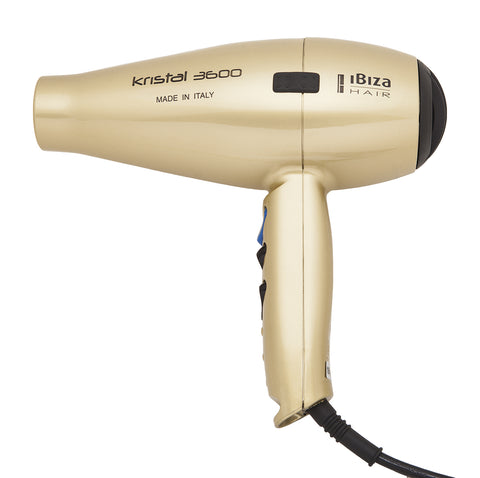 Ibiza Hair Dryer 3600 Gold
Ibiza Hair Kristal 3600 Gold. Ibiza Hair has searched the world for a hair dryer that would work harmoniously with their world famous round brushes. The Kristal 3600 is a high performance hair dryer. It's lightweight, yet powerful and has perfect balance to go with the lightweight Ibiza Hair brushes. It's a classic dryer that blow drys hair in half the time of a regular dryer. Enormous airflow gets hair voluminous in minutes. The Kristal 3600 is a true AC motored hair dryer with no ceramic or tourmaline. AC motors are used in professional dryers and are quieter, last longer and allow the heater to shut off. The Ibiza Hair Kristal 3600 blow dryer is a true pro that delivers massive air flow and power, while  remaining surprisingly lightweight and perfectly balanced.

Includes 2 nozzles, 1875 watts.

Made in Italy.